Reviews and recommendations are unbiased and products are independently selected. Postmedia may earn an affiliate commission from purchases made through links on this page.
Article content
Battles between Forge FC and Cavalry FC are generally can't-miss matches.
Article content
Epic, really.
So it's no surprise the thought of one brings on fascinating fantasy football feelings for those involved in the rivalry.
"I wish I could still play," said Cavalry GM/head coach Tommy Wheeldon Jr. "I can't move, but I even said that to my brother (Jonathan). And he loved playing in those games. He said if there's anything that would've brought him out of retirement, it was these games with Forge."
Article content
Perhaps that's not a bad idea to get both gaffers — as competitive as they are — onto the pitch as players to add even more fuel to the fire.
"Yeah … why not?" continued Wheeldon Jr. — playfully — when asked if he'd welcome the chance to play against Forge counterpart Bobby Smyriotis. "I imagine he'd be a slippery one. But I think there'd be too much hair there. I mean … his beard and my hair, I think we'd be blinded like Rapunzel. I think we'd probably get tangled up.
Article content
"It would look like something out of Lord of the Rings, wouldn't it? It would be like a fighting scene in Lord of the Rings, with Gimli and Aragorn with all that hair."
Truly epic.
And with that visual comes another instalment of the Forge-v-Cavalry franchise — Wednesday night at ATCO Field (7 p.m., OneSoccer, OneSoccer.ca). 
As is always the case, the meeting means something in the Canadian Premier League landscape. It's two top-four teams on the table separated by just a pair of points.
At 8-2-4, fourth-place Forge is on 26 points and rising in the standings with seven wins in its last nine outings, including three-straight dominant wins over Valour FC, FC Edmonton and York United FC.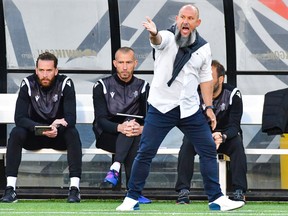 Meanwhile, Cavalry — now 8-4-4 — has tumbled out of first place into the third spot after back-to-back losses, including an ugly 3-0 drop to Pacific FC late Saturday. 
Article content
"We get a chance to respond on our pitch, and we've had three days of training towards it," said Wheeldon Jr. "We'll be more glued in, coupled with the fact that these guys are mentality monsters — there's a brimming anger and disappointment in the way we looked last time."
Indeed, that effort against the defending CPL champ — marked by the gaffer as three "terrible" goals conceded causing the Cavs to beat themselves — was forgettable.
"Massively," continued Wheeldon Jr., himself shouldering the blame entirely for the struggle. "The Pacific game? I owned it — I made too many rotations, and we lacked that little bit of chemistry without having the week to prepare like they did. No placing blame on the players. I think what we were trying to do was be a good league friend and give Pacific some confidence going into Concacaf (Tuesday night against Jamaica's Waterhouse F.C.).
Article content
"We'll play our strongest lineup available (against Forge)."
That comes not only because the Cavs are trying to thwart an untimely three-game losing skid, but because of the respect they have for the side from Hamilton.
"It's mutual respect," said Wheeldon Jr. "You look at how Forge was formed out of Sigma with the philosophy of how they wanted to create players. And when I was at the helm with Foothills, we had a philosophy of how we wanted to play and develop players and bring it together (with Cavalry). So what you're seeing is the work of previous history coming to the fore."
And what you'll likely see because of that is another epic battle. 
Count on it.
"I don't need to do much talking really with the players," added Wheeldon Jr. "The motivation speaks for itself. We play Forge here. It's the first time we get to play Forge (at home) since 2019.
Article content
"They can adjust their tactics. They're competitive. They've got bite. They've got dynamism. They've got a cuteness now that they're able to play with the officials. They're the kind of games you want to play in. It brings the Concacaf environment to our home shores. And I think it makes for a terrific game."
FREE KICKS
Cavs midfielder Sergio Camargo and defender Roberto Alárcon will be back in the lineup Wednesday, but midfielder Jose Escalante is unavailable due to a one-game suspension after receiving his fifth yellow card of the campaign Saturday … Defender Bradley Vliet (illness) is not expected to be a Cavs selection, while midfielder Ben Fisk will undergo a pre-game fitness test to determine his availability … Captain Mason Trafford (knee) remains out, as does forward Myer Bevan (hamstring) … The club's four long-term injured players are goalkeeper Tyson Farago (back), defender Tom Field (knee) and forwards Anthony Novak (ACL) and Fraser Aird (ACL).
tsaelhof@postmedia.com