'The lord is my salvation,' Full House alum says. 'I will trust him and not be afraid. For he, and he alone, is my strength and my defender'
Article content
Candace Cameron Bure is once again turning to the Bible amid a new spat, this time with Hilary Duff's husband, Matthew Koma.
Article content
Cameron Bure, 46, posted a video of herself reading a passage from Isaiah 12:2 after Korma lambasted her for posting a video wearing Fourth of July-themed clothing as Bruce Springsteen's Born in the USA played in the background.
"The song you're playing? Yeah, it's about veterans coming home from Vietnam and being treated like s—," Korma jabbed in a TikTok video that has been viewed 1.7 million times. "It's not about the Fourth of July."
Koma captioned the clip, "The more you know," and fans had a ball dissecting the exchange in the comments section.
"Seeing Hilary Duff's husband roast DJ Tanner is not what I had on my bingo card this week folks," one person wrote.
"Scripture memory day," a chipper Cameron Bure captioned her Instagram Story post as she seemingly tried to rebut Korma's diss.
Article content
"The Lord is my salvation," she said, according to the Page Six. "I will trust him and not be afraid. For he, and he alone, is my strength and my defender. He has become my salvation."
In her original TikTok post, Cameron Bure said, "I mean, c'mon, would you expect anything less from me?" while sporting a "God Bless America" T-shirt and a "God Is Good" baseball cap as the Springsteen anthem played over top the clip.
https://www.instagram.com/reel/Cfmqaeal3zD/?utm_source=ig_web_copy_link
Her video referenced her role on Full House with the caption: "Tell me you're DJ Tanner without saying you're DJ Tanner. Happy 4th of July."
Koma's social media takedown of Cameron Bure follows a knock from YouTuber JoJo Siwa, who called the Hallmark actress the "rudest celebrity" ever in a viral TikTok video.
Article content
Siwa, 19, posted the the clip in reaction to a recent social media trend in which people list the nicest, coolest and rudest stars they've met, along with their celebrity crushes and the A-lister that has "done them dirty." The Dancing With the Stars vet was catching some sunshine poolside as she quickly turned her phone around to reveal her responses to the various questions when eagle-eyed TikTokers quickly spotted Cameron Bure in a sleeveless turtleneck from a scene in Fuller House as "rudest celebrity I've met …" flashed across the screen.
"Pool day = exposed hahahha," Siwa captioned the post, which has been viewed 24 million times and generated 1.2 million likes.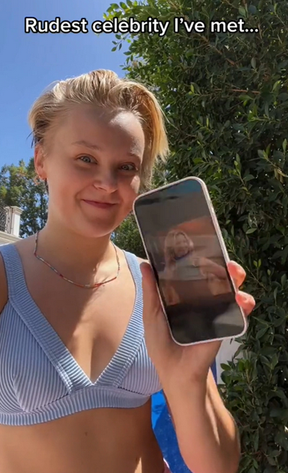 As the clip made the rounds on social media, Candace Bure took to Instagram telling fans she was "shocked" by the unpleasant moniker.
Article content
After the two chatted, Siwa told Candace Bure that she earned the label because she snubbed the Dance Moms alum at a red carpet premiere for Fuller House when she was 11 years old.
Assuring her followers that everything is "good on the JoJo front," Cameron Bure said the pair have patched up their relationship.
But Candace's daughter, Natasha, waded into the battle lashing out at Siwa in a now-deleted Instagram Story.
"This generation is so sensitive and has zero backbone. Grow up. There are bigger issues in the world than this," Natasha wrote.
Siwa's mom Jessalynn also fired shots in the war of words on an episode of her podcast Success with Jess.
"At the end of the day this story, it's not about a simple photo it's about how you treat people," she said. "Real, genuine kindness always goes a long way. It's super easy to quote a Bible verse when everyone is looking at you but morals are what you have when no one is looking."
Article content
On Instagram, several of Cameron Bure's high profile friends praised her response to the Siwa fiasco.
"You are officially my spirit animal!" 90210 alum Tori Spelling wrote. "So eloquently put," she continued. "I'm sitting here crying."
Bristol Palin chimed in, adding, "I ran into you outside hotel in NYC years ago, I was starstruck and had to say hi, you were one of the absolute KINDEST people I have ever met."
mdaniell@postmedia.com
Candace Cameron Bure reveals why JoJo Siwa called her 'rudest celebrity' ever

Candace Cameron Bure blasts 'Christians' over boob backlash

Candace Cameron Bure's daughter blasts JoJo Siwa