Article content
The Argonauts weren't just mauled by the B.C. Lions late Saturday night on the west coast.
Article content
They were devoured and exposed.
Had the Alouettes not shot themselves in the foot by missing a short field goal late in last week's season opener, the Argos would be staring at an 0-2 record and grappling with some hard questions that became more magnified in the wake of a shameful and pitiful 44-3 beatdown to the Lions.
Article content
Canadian quarterback Nathan Rourke was as good as advertised in leading a Leos offence that scored at will against a beleaguered Argos defence.
For Ryan Dinwiddie, it was by far the worst loss of a 17-game head coaching tenure that included last fall's dreadful East final loss to the Tiger-Cats.
At no point have the Argos looked so outcoached, so outplayed, so out of sorts than they did Saturday night. And while Dinwiddie can't bear the full brunt of the blame for this debacle, he has to be held accountable for an Argos team that was simply awful.
Article content
The Boatmen never gave themselves a chance against a Lions team riding the hot hand of Rourke, who has been lights out in guiding B.C. to a 2-0 start while outscoring its opposition 103-18.
Toronto's play-calling isn't very good and that falls on Dinwiddie. Dating back to Toronto's loss to Hamilton in the East final, the Argos offence has scored just one touchdown in 12 quarters. Veteran running back Andrew Harris couldn't provide a spark in his second Toronto start and QB McLeod Bethel-Thompson again was unable to find the end zone before being given the hook following an interception with seven minutes left in the game.
MBT is a competitor and, like any veteran quarterback who wants to be on the field, he expressed his anger at the call. Too bad there wasn't the same passion shown by the Argos in the game's previous 53 minutes.
Article content
Chad Kelly made his CFL debut with 1:37 left in a 41-point game and, on his third play from scrimmage, got drilled from behind and fumbled, though it hardly mattered. On the game's final play, Kelly was picked off, which mattered even less.
The defence, meanwhile, under rookie co-ordinator Corey Mace, couldn't get off the field. Breakdowns in the secondary, one of many issues that would plague the Argos defence, led to easy touchdowns for the Leos, who scored a TD on their opening drive and led 20-3 at the half.
Along the line of scrimmage, it wasn't any different as the Lions rolled up 583 yards of offence to 242 for Toronto.
"Totally embarrassed,'' said Dinwiddie afterwards. "It was a horrible display of football and the coaches had their hand in it as well.
Article content
"We all have to find a way to look in the mirror and find a way to get better. That was a tough loss, it sucks, I hate it, but we can't let it ruin our season."
Dinwiddie was asked if he was stunned at what he had just witnessed.
"A little bit,'' he added. "I thought we had a good game plan…Everyone had a hand in it."
BC Place has become a house of horrors recently for the Double Blue. Their previous visit to Vancouver back in 2019, resulted in a 55-8 obliteration that would cost general manager Jim Popp his job.
No jobs are likely to be lost in the wake of Saturday's sordid setback, but some deep soul-searching will be required before they play again on July 4 when the undefeated two-time Grey Cup champion Winnipeg Blue Bombers come to town.
Article content
Unless the Argos can get their act together, Saturday's dismal effort might be the beginning of an extended streak of futility.
For a short while the Argos actually looked like they might be competitive against the Lions. After Rourke put B.C.s up 7-0 on the opening drive, Bethel-Thompson promptly marched the visitors down the field, highlighted by a 48-yard catch-and-run to DaVaris Daniels. But with three cracks at a game-tying TD from the B.C. one — two by short-yardage QB Austin Simmons and one by Harris — the Argos were stuffed each time.
It would prove to be the game's turning point. Once the Argos were denied, the onslaught would begin.
Rourke went a near-perfect 39-for-45 passing with four touchdowns and 436 yards — a CFL record for by a Canadian quarterback in a single game. Gerry Dattilio held the previous mark of 427 yards established in 1981. But fact is, any decent QB would have flourished against the Argos on this night.
Article content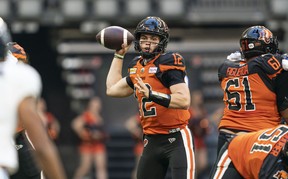 "It's upsetting, but we've got to find ways to get better,'' said Dinwiddie. "We can't let it ruin our season. The good thing is that it is Week 2, but we're not playing good football right now.
"We have to go back to the drawing board. It's humbling. Maybe we're not as good as we think we are and maybe this is a good learning lesson for us."
Dinwiddie, himself a former quarterback, understood the frustration of MBT, who was 15-for-21 for 178 yards through the air.
"I'd be foolish to leave him in the game and he gets hurt,'' said Dinwiddie, who then revealed that offensive tackle Dejon Allen left the game with a suspected knee injury.
"I just lost my left tackle. How am I going to lose my quarterback? He wanted to play and I get that, but at the same time I can't jeopardize my quarterback."
MBT pulled no punches when asked how the Argos turn the page.
"We got our (butts) kicked,'' he said. "We've got to look deeply in the mirror and find out who we are."
fzicarelli@postmedia.com